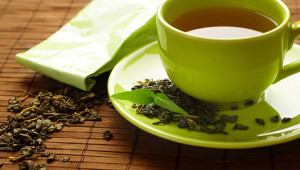 There's a miracle drink that simultaneously peps you up and chills you out. And it's completely sugar-free, chemical-free, and additive-free.
Sounds too good to be true — especially if you're reading this blog-post while in search of a midweek boost.
It's only in the past decades that we've found out how medically amazing green tea is. It has multiple health benefits, not the least of which is its high level of antioxidants. What I wanted to mention on this Wednesday blog-post though is an amino acid called L-theanine.
L-theanine is found in green and white teas and has a wonderful pharmacological ability – it increases your production of a whole battery of positive brain hormones. It gives us a tremendous mental boost while at the same time reducing stress. Green tea stimulates and relaxes us – both at the same time.
And then of course, there's also the fact that it's plain delicious – whether hot or iced.
Not all teas are created equal and the quality of the tea leaves directly affects their level of health benefits.
Karen at So G Coffee Roasters in South Glastonbury and one of our favorite tea-experts, recommends the following:
Fuji sencha
Dragonwell
Genmaicha
All of them are organic, all of them are equally wonderful hot or iced — and all  of them are packed with those brain-boostingly miraculous L-theanines.
Happy Wednesday brain-boost everyone!
Image credit: precisionnutrition.com