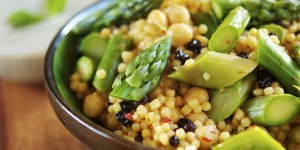 Weekends are a wonderful time to enjoy food! To enjoy buying it. To enjoy preparing it. And above all – to enjoy consuming it. That's why my Friday blog-posts are always about nutrition – one of the surest ways to boost your health.
The medical world is united in agreeing that setting aside one day per week to enjoy vegetarian food is an excellent step for maintaining health. So one day this weekend, set yourself the challenge of going meat-free. If you haven't done so already then you could also take this as an opportunity to experiment with organic vegetables and find our how wonderful they can be to cook with and enjoy.
If you'd like some inspiration, try one of the ideas listed here in the Wheat-Free Meat-Free Cookbook. As well as giving yourself the health-boost of a vegetarian day, these recipes also avoid wheat and pasta which is a great way to enjoy healthy eating and to lose a few calories at the same time.
Bonne appetit everyone!