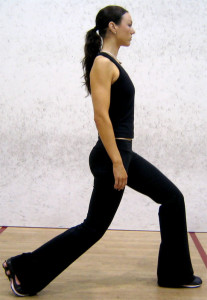 If you work on your feet, as many of us do, then it's important to maintain good posture.
If your standing posture starts to slip into a slouch, even an unconscious one, then a condition called an Anterior Pelvis Tilt can quickly become the result. And that leads to a slowly building backache – especially for those of us whose work involves a lot of time standing.
So for all of you who returned to work today as the school system returns from spring break, try this simple stretch:
It's called a Standing Hip Flexor stretch. It's such a simple and easy stretch that you can incorporate it into your day whenever you feel any twinges of lower back stiffness.
Share this with anyone you know whose day involves long periods of standing.
And as always with stretches – take the exercise slowly, and if at all uncomfortable, stop!
Image Credit: cm-cure.com